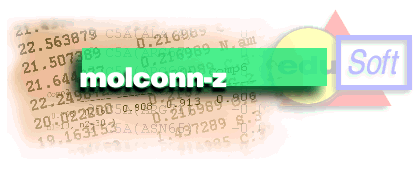 Molconn-Z is the standard program for generation of Molecular Connectivity, Shape, and Information Indices for Quantitative Structure Activity Relationship (QSAR) Analyses. New parameters and concepts of QSAR, including the E-State, have been introduced first in Molconn-Z. This release, in addition to being built on an all-new platform, introduces new capabilities to the Molconn-Z canon:
---
Unique Molconn-Z Computations in Version 4.00:
New Group-Type counts, E-States and Hydrogen E-States.

Improved descriptors for describing hydrogen bond donors, acceptors and internal hydrogen bonding.

Enhanced hydrogen and non-hydrogen Atom-Type set.

Consistent interface across multiple platforms: UNIX/LINUX, Windows, Mac OS-X.

Consistent descriptor nomenclature.
---
The output parameters can be easily integrated into standard and advanced statistical analyses such as:
Multiple Linear Regression
Nonlinear Regression
Partial Least Squares
Discriminant Analysis
Pattern Recognition
Cluster Analysis
Principal Component and Factor Analysis
This set of parameters is also invaluable for Similarity Analysis in Database Searching.
---
Standard Molconn-Z Computations
Molecular Connectivity Chi Indices: and

Kappa Shape Indices: and

Electrotopological State (E-State) Indices: S

Molecular Connectivity Difference Chi Indices: d and d

Atom-type E-State Indices.

Group-type E-State Indices.

Topological Equivalence Classification of Atoms

Other Topological Indices:

Shannon Index
Information Indices
Wiener Number
Platt Number
Bonchev-Trinajstiç
Total Topological Index

Counts of Subgraphs: paths, rings, clusters, etc.

Vertex Eccentricities
---
Molconn-Z Parameters have been used in a large variety of unique studies:
Biological/Medicinal QSAR Studies
Environmental Property Modeling
Physicochemical Property Modeling
Molecular Similarity Analysis
Inverse QSAR Method
Molecular Classification Analysis
Chromatographic Retention Analysis
Powerful/Flexible Database Searching
---
More Information about Molconn-Z:
---